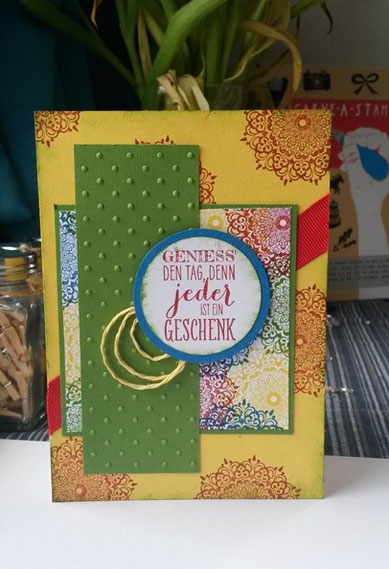 I had very little time this week but I just can't stay away from my crafting stuff completly :) So I made this very quick card (took me about 30 minutes) using this weeks Mojo Sketch.
The square background is stamped (Stampin Up set Happy Day). I made the same patterned paper for a mini-album I'm going to show you soon, so I already knew how to do that quickly.The colours are Daffodil delight, Pacific point, Gumball green and Real red. I used the Big Shot to make the green piece of paper a little more interesting. The text sais (more or less :) ): Enjoy the day, because every day is a gift. I'd rather have the english version which is (as often) so much nicer. That would go: Life doesn't have to be perfect to be wonderful. So much is lost in translation...

I had Real red coloured ribbon and some twine almost the same colour as Daffodil.