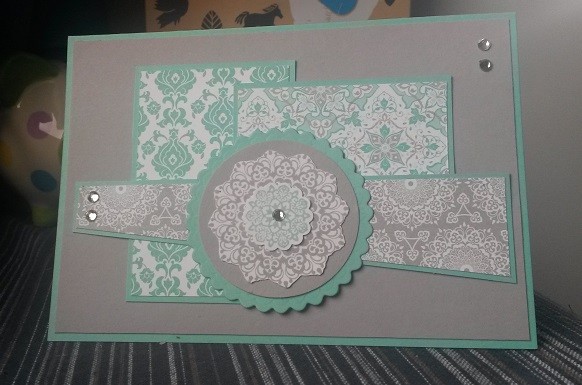 Today, I like to share with you my last minute Mojo card. As I am currently not at home, I can't look up the names of all the materials I used, so excuse those lacking informations. I loved the sketch because it offers great opportunities to use design paper to its best advantage. I would never have used that diagonal element in my own card designs, so I was glad to do something "out of comfort zone" :).

I forgot the name of this Stampin Up designer paper set, I will look it up. The colours are Jade, and I believe basic grey (or the other grey, I always get confused which is which in English :) )The stamped element in the circle is from the set Happy day, I just cut it out. It matches the paper. The jade coloured element with the rhinestone is from another set. I punched it out using the small scalloped circle punch.

As always, I tried two different variations, I hope you like both! The second one has the colour Bermuda Bay as frames.