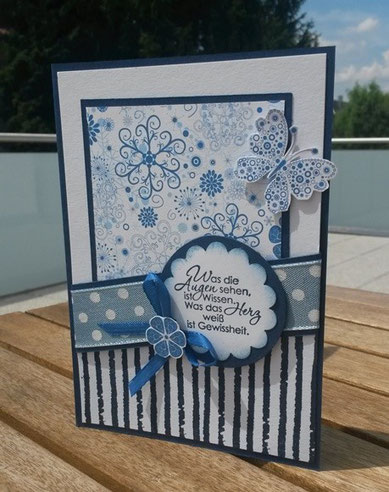 Quite a busy week, but today I had some time to play along with the mojo sketch.
I started with the design paper which is supposed to have butterflies on it. Unfortunatly, I cut a piece with just half a butterfly on it, so I had to improvise by cutting out another one in order to glue it over the partial one using 3D-pads.
The lower backround did seem a bit boring, so I stamped lines (stamp set "Painted Petals"). The colours are mainly Night of navy and the no name blue of the design paper.

Then I just went looking for blue stuff to add, deciding on the dotted ribbon, blue ribbon for a bow and a cut out flower from the design paper.

Then I used the 2" circle punch and the 1 3/4" scalloped circle punch and stamped a sentiment using the set "Glaube einfach" (no idea what it is called in English, sorry...).