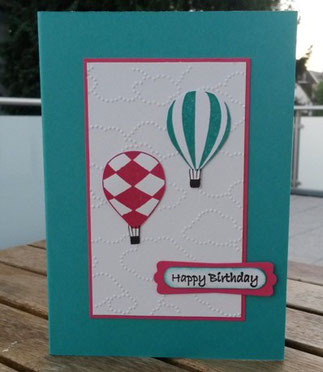 I was just surfing the internet and I found a blog with a colour challenge using my favourite colours! Couldn't resist!

The idea is to create a card, using only the colours indicated plus white/ black/ cream for example as background. This particular challenge also wants clean and simple cards, straight forward, not many layers. There are many beautiful examples on their blog page, take a look!

For me, that is a real challenge, I haven't done things like that before, at least not on purpose :)

So, this is what I came up with: colours have to be Bermuda Bay, Melon Mambo and Early Espresso. I think it might lack espresso, only the baskets and the sentiment use that colour. And may have too many layers... But hey, it's my first try!