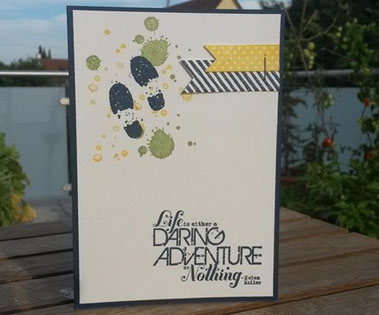 I really love colour challenges, it is so nice to see which colours should be combined, think about what atmosphere they create and what kind of card would fit.

This weeks CAS challenge is a layout AND colours! The colours are: Doffodil Delight, Night of Navy and Wild Wasabi, what a beautiful combination! First, I thought about something flowery romantic, but then I could imagine something to do with travel and adventure. Maybe there is some red missing, but I really felt this could work.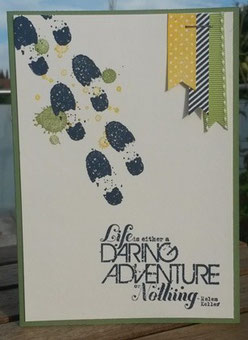 So this is the result: I used all kinds of stamp sets:
- sentiment and footprint:"Daring Adventure"
- small spots: "French Foliage"

- large spots and blue stripes: "Gorgeous Grunge"

- Dotted banner: "Tape It"

I used a stapler for the banner elements to make it look more rustic and travel-like.The rest is pretty straight forward...

I made a second version altering the position of banners, adding a third and stamping more footprints. I prefer the vertical banners, but I like the simplicity of just one footprint.