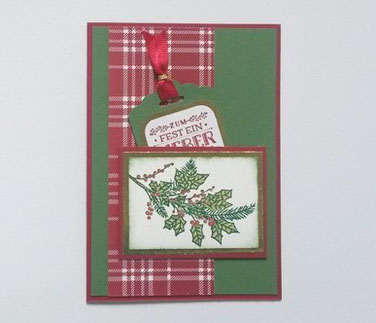 My package containing all the new christmas products arrived! I really like this years selection and I am looking forward to create things with them. Currently I am quite busy, but I had to try at least some of it!

So here is my first christmas card of the year.

I used the Mojo sketch because I liked the idea with the tag. I made it so you could take it out to look at it.

Colours are (of course...) garden green and chili. I made two versions using the new stamp sets "Peaceful Wreath" and "Happy scenes". The sentiment is from "Cozy Christmas".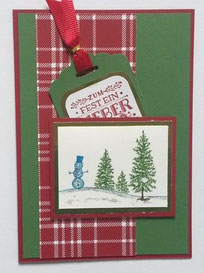 I was really in two minds if I should order the set in German or English. Of course, the song lyrics "Have youself a merry little christmas" don't translate very well, much nicer in English. But many of my relatives don't speak English that well, so I decided to take the German version.

I elevated the rectangular element with pads so you can take out the Tag.
I decorated the second version with some glitter to make it more snow-like. In retrospect I regret the snowman, the more serene landscape would have been enough...