A collegue of mine is leaving, so I made a goodbye card.There are a lot of tutorials online. My card is six inches high, I liked that better than the more narrow versions.The center piece measures 6"X4", just for orientation. The closed card shoud be about 8"x6", if I am not mistaken (forgot to measure it prior to giving it away).

I didn't have much time for details, so I decided to do something with a lot of coloured paper. The card was supposed to have an Indian touch. Unfortunately I do not have any papers that resemble Indian patterns, so I had to make them myself.
I selected the colours Night of Navy (Card base and stamped patterns), Tangerine Tango, Cherry Cobbler, Rich Razzleberry, Bermuda Bay, Pacific Point and Gold. Starting with the orange colour, I used a sponge to create the colourful backgrounds. Then I stamped elements on the background, trying to imitate a kind of Henna-Style. I think, it worked quite well.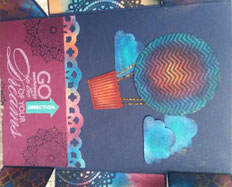 In the centre of the card, there is a balloon, the closest thing I could do related to travel and leaving. The balloon is made of a 2" circle (I think) and the bottom part of the muffin punch. The clouds are just the top part of the same punch, so, quite easy. The chevron pattern is a stamp from the set "Oh, hello".

To seperate sentiment and balloon, I used a part of the border punch and ascrap piece of paper.

I love the stamp set "Word play" and there a far to few occasions to use it. First I tried to stamp the sentiment in Navy, but it was hard to read. So I had to use white. I am not too happy about that, but I couldn't see another way.

Last, I added some details and made a pocket for a large tag for all collegues to sign. The whole card closes with magnets, in retrospect I should have used ribbon, magnets are not quite enough to keep it flat.