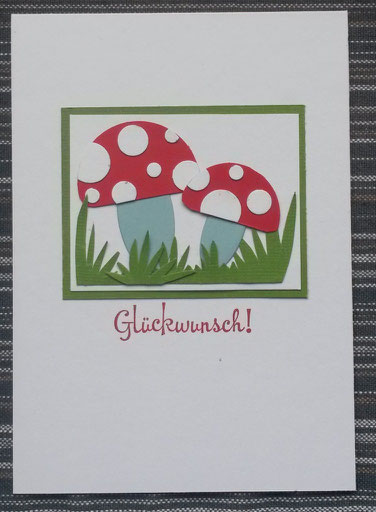 I haven't participated in CAS-Challenges for quite some time, but today I just wanted to do something new. This week is all about colour and even though I do not have two of the three colours indicated, I loved the challenge!
I used Gumball Green instead of Cucumber Crush and Bayblue instead of Mint Macaroon.
First I was at a loss what to do with the combination, I contemplated a children birthday card or a baby card, but then the idea of these mushrooms just popped into my mind. I looked it up, aparently they are called "fly agaric" in English, never heard that word before. The direct German translation would be "fly mushroom" (Fliegenpilz).
I used the 1 1/2" and the 1 1/4" circle Punch to make the red huts and several smaller circle punches for the white dots on them. You just have to cut the red half circles at the corners to make them round, looks better. Next I used oval framelits for the stems, but I guess there are many more possibilities to make those... The grass is just cut roughly by hand. The green frame measures 7,5 x 6 cm.
To my surprise among my several hundred stamps there is not one that sais "Good Luck". That is unfortunate, so I used one that sais something like "Wish you luck" which in German is used more like the English word "Congratulations". You could not use the expression "Glückwünsche" to wish someone success in an exam or suchlike. I guess it has something to do with the fact that there is no distinction between luck in circumstances governed by coincidences and luck in the sense of being happy and contend in life. I do love languages!