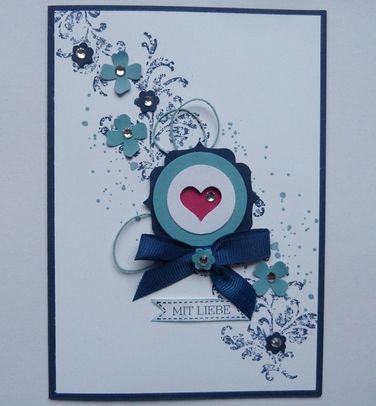 I almost missed this weeks CAS challenge even though I do love the colour combination: Night of Navy, Marina Mist and Watermelon Mambo.
It took me some time to find a theme. The seaside comes to mind of course, but I really have no connection to shells and boats. I contemplated a christening card with a sailboat, but just could not picture it. I wanted to use the pink colour as highlight somehow, so in the end I came up with this card.
I used the stamp sets Timeless Tectures and Georgeous Grunge as background and a sentiment (says "with love", it's an easy translation this time). Also several punches oof course, some ribbon and rhinestones.
Do excuse the bad picture, it is getting dark and that's the best I can do. It looks worse in artificial light, believe me. Someday I have to get some better lighting equipment...
PS: I just noticed, there is a card very similar to mine in the challenge already! Check it out here, it is wonderful!
I'm sorry though, I didn't intend to copy. I originally intended to use one of the curvy planty stamps (like Creative Elements) at first, then realized that I should use one of my new sets for the first time...