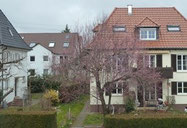 You may have noticed: this week I am into challenges! They are so much fun and they really motivate me to try new things. I particulary love the Less-is-More challenge this week. You're supposed to make a card inspired by the things you see outside your window. Isn't that great?
So, first I chose one fo my windows (I can look out in each direction, so I do have something to chose from. There were two possibilities: bench under an apple tree or the blooming tree on the other side of my street. I choose the latter: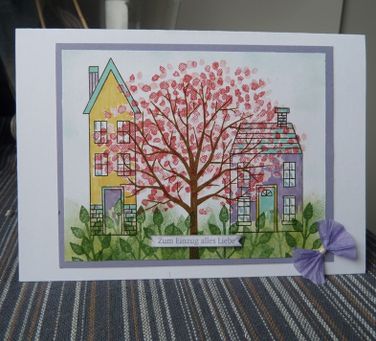 And this is what I came up with. I was concerned the big tree (Set "Sheltering tree") would be too large compared to the houses, but I think it's okay.
The hedges took me some time, I couldn't decide how to make those. I still think there have to be some better ways to do it, maybe there'll be another opportunity sometime.
The sentiment sais (liberally translated): "All the best in your new home". Word by word it's something like "All lovely things for your moving in" Hard to translate, though, still isn't it exactly.
Hope you'll like it!