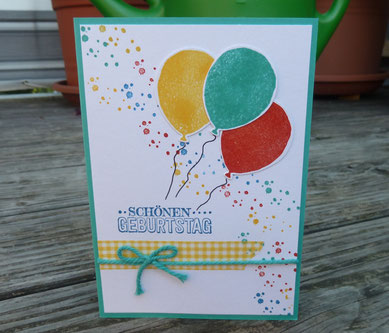 Yesterday, I had enough of Scrap-Cards and just did these quick balloon-birthday-cards (which do nothing to reduce the amount of scrap paper I have).
I got the theme from this weeks challenge of CAS on Sunday: Balloons! Everyone likes balloons, right?
The colours are Daffodil, Bermuda Bay, Pacific Point and some old orangy-redish colour I don't know the english name of. I just stamped some sprinkles on the background, stamped the balloon and punched them out using the Stampin Up balloon- punch. As I said, easy! The yellow stripe is washi tape, paper would work too, of course. I was happy to have some Bermuda Bay coloured twine to add some extra-dimension ( and I like bows).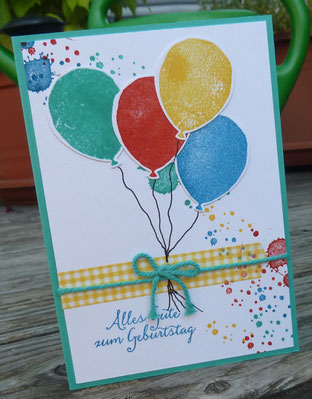 The balloons are elevated a bit using 3D-sticking pads (still no idea what you call these in English...).
I just played around some with my text stamps to find the right one. The upper one sais,  roughly translated, "(have a) beautiful birthday", the one on the right sais "All the best on your birthday" (more or less).
The strings holding the balloons are just drawn lines, real string seemed too much somehow (and would have made the cards more complicated and less quick).
As they are so easy to do, I might use that design for card-sets one day. One always needs birthday cards after all...