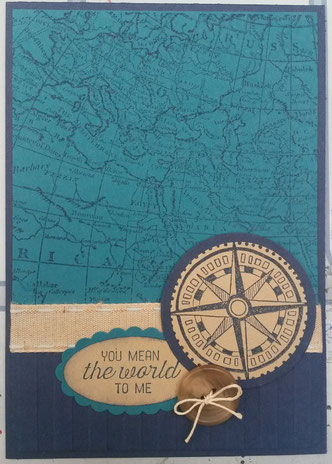 For quite a while, these two gorgeous stamp sets have been lying around: World map (just one big background stamp) and Going Global. As a geographer, I am fond of maps, comes with the territory, I guess :)
But first, there was no time because we were moving (and that means a trillion things to do...), after that the stamps were in a box (and I had no shelves yet), and then we had shelves - and so much to move, tidy up, put away, (occasionally throw away) that I still had no time for card making. But now, (while still short on shelves) we had a relatively free weekend. You know that feeling when you're secretly happy that it rains because of the good excuse to stay inside and do some crafting instead of feeling compelled to go outside?
Some of you may have noticed: I love Island Indigo, it's my favorite color and it somehow fits for travel and world themed cards. As I wanted to stamp the world map on it, that color had to be darker. Night of Navy turned out great. I had every intention to use my new Sahara Sand colored paper as well, but then the ribbon just corresponds very well with Crumb Cake, so I yielded to that. I used a line patterned embossing folder to make the blue strip of paper a bit more interesting and added buttons (I tried two versions, but prefer the first one).
When packing for our move, I realized that I might have a button-collecting-addiction. They do not fit anywhere, so I'll try to use them more frequently to reduce my stock.