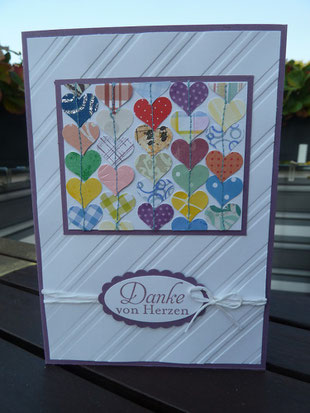 As I mentioned in my previous posts, I am trying to use up some of my scrap paper at the moment. I already did cards with strips of paper, cards with pennants, and cards with squares, so I was looking for something different.
This weeks AAA-cards challenge is to try a new technique and I already did some cards using a paper strip background technique I haven't done before. But it was so much fun, I failed to notice that none of my cards is CAS (Clean And Simple), so I'm going to show them to you some other time.
Fortunatly this weeks challenge on CASology is Stitching and that really is something I haven't done on cards before and I always wanted to try...
First, I punched out many small hearts using some tiny pieces of scrap paper. That really helped to reduce my stash :)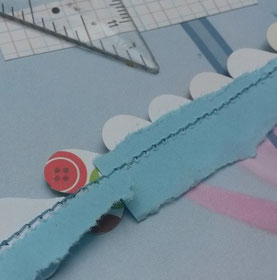 Next, I got out my sewing mashine and tried to stich them together. That did not work very well, because the hearts were so small I could'nt  get the near enough to the needle. So I used some thin paper as a carrier and that worked very well. You just have to rip that paper off very carefully later on, but as the stiches make like a natural seperating line, its not hard to do.
It was so much fun, I made like a whole meter hearts-chain :)
When that was done, I started to develop some layouts and patterns and came up with serveral different approaches.
In German language, many set phrases relate to the heart as "Herzlich" (Heartfelt, cordially) is used in the sense of "from the heart" and therefore suits many occasions like "Herzlichen Glückwunsch" (Congratulations) or "Herzlichen Dank" (Heartfelt thanks). So I played around with that.